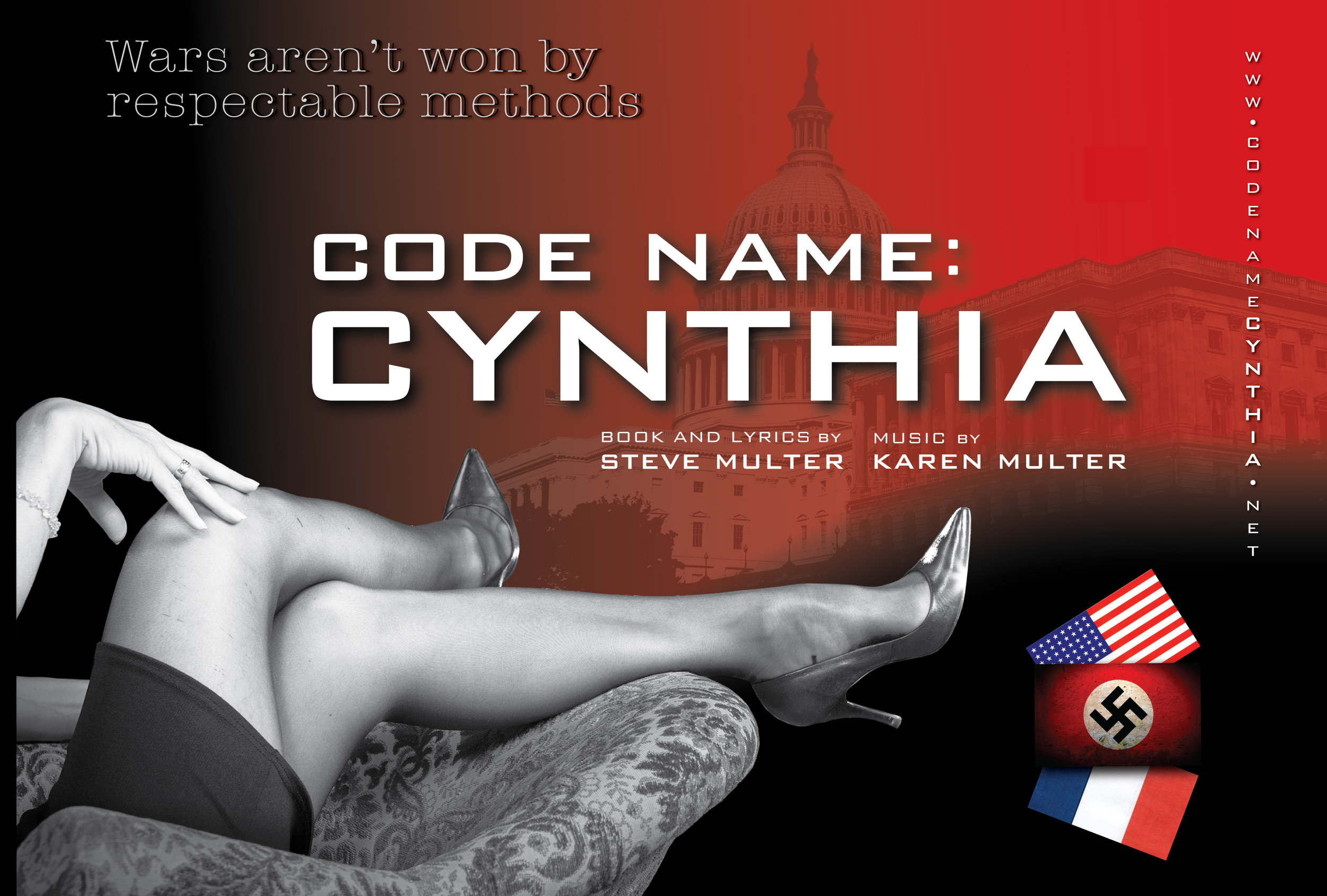 AVAILABLE FOR LICENSING script and score samples on request
info@multerandmulter.com +1.312.371.9643
An unsung American patriot leaps from the declassified pages of history onto an epic global chessboard where honor, sex, and political ethics play out against the fate of the free world. Fleeing the ashes of Europe for WWII Washington, DC, master spy Betty Thorpe (code name: CYNTHIA) is blackmailed into seducing the enemy in order to turn the tide of war - and to protect those she loves from her own precarious web of lies.
code name: CYNTHIA received its premiere production in 2015 with Pallas Theatre Collective in Washington, D.C. where it was nominated for two BroadwayWorld Awards including Best World Premiere Musical plus DC Metro Theater Arts' 2015 Best Musicals at Professional Theaters honors.
The show began development in association with Chicago Dramatists and, based on the score, the writers were selected as Dramatists Guild Fellows (Chicago) and Steve was a finalist for the 2014 Kleban Prize for lyrics.
code name: CYNTHIA was selected for the 2015 Kennedy Center Page-to-Stage Festival and given a special invited presentation at the International Spy Museum in Washington, DC where the project was inspired. The show was a semi-finalist for the 2014 National Musical Theatre Conference at the O'Neill, a finalist for the 2013 ASCAP New Musical Theatre Festival at the Lied Center, and a semi-finalist for the 2012 National Alliance for Musical Theatre Conference.
Workshops and developmental public readings have been produced by Chicago Dramatists, Porchlight Music Theatre, Ball State University, Point Park University, and Roosevelt University. Selections from code name: CYNTHIA have been presented at two ASCAP/Chicago Dramatists New Musical Theatre Works cabarets and featured in the Chicago: Theatre
Capital of America symposium at Columbia College.
In August 2016 FWD Theatre Project brought Cynthia home to Chicago for a week-long workshop and public staged reading at The Edge Theater, directed by Elizabeth Margolius and starring Jennie Sophia and Gene Wygandt.